Dock walking is the process of walking the yacht and superyacht docks with the aim of landing some daywork or if you are lucky, a permanent job.
It can be intimidating, tiring, and frustrating. Rejection is as common as many boats are fully crewed or are looking for candidates with more experience.The key is to stay positive and always be presentable, polite, and confident when asking for work or handing out your CV.
Dock Walking Tips and Advice
When approaching a yacht, it is important to be polite and confident. Introduce yourself in a professional manner, shake the crew members hand and make eye contact. Ask to speak to the Head of your Department (Chief Stew, Engineer or Officer). However, it is very likely they will be too busy to see you. Explain to the crew member that you are seeking a job and ask if they require a hand for any daywork. Keep it short and sweet, they are busy and have probably seen many day workers and do not want a long-winded story. Thank them and pass on your CV. It can also be good practice to ask if they know of any other yachts needing crew/day work.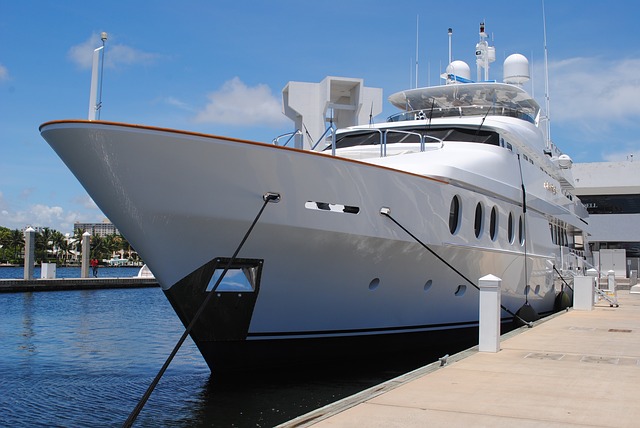 Be Prepared:
Print out a few CVs and individually place them in a plastic sleeve with a business card attached. This will help you appear professional and increases the likelihood of your CV reaching the H.O.D or captain.
Start early:
If boats are looking for day workers they will likely take the first dock walker that approaches them. Most yachts begin work at 0800. DO NOT disturb boats before this time.
Dress Code:
Be presentable and ensure you are cleanly shaven and have neat and tidy hair. You should wear a clean white/blue polo and khaki/blue/black shorts/skort/skirt and boat shoes.
Change of Clothes:
Dock walking often leads to on the spot daywork. It is, therefore, a good idea to carry around a backpack with a change of clothes that you do not mind getting ruined (a white t-shirt and less smart shorts, or an old boat t-shirt). Some boats will give you day working clothes to use, but do not count on it.
Have a Plan:
Many marinas and shipyards have strict security and regulations. Research which ones allow dock walking and plan a route before you start.
Bicycle/Skateboards:
Riding a bicycle or a skateboard helps cover more ground in a shorter period of time and preserves energy. However, it is good practice to leave them at the entrance and approach yachts on foot. Many captains and first officers feel very strongly about this. Be sure to leave your bicycle tied up or skateboard with the security staff to stop them from being stolen.
Times:
Never approach a yacht during lunch hours (usually 1200-1300) or outside of work hours (usually 0800-1700).
Many boats work on weekends and it shows commitment and dedication. Be sure to ONLY approach yachts that are clearly working (crew in uniform working on the deck).
The last couple of hours of the day (1500-1700) are often a good time to find work, the crew have a better idea of there schedule for the next day and may realise they need an extra hand. There are also less people walking the docks and again it shows dedication.
A handy tip is to walk the docks in the morning and visit some crew agents afterwards. Take a break and some lunch and then hit the docks again in the afternoon. Reward yourself with a drink between 1700 and 1800 at a 'yachty' bar as this will provide a good networking opportunity and you may even land yourself some daywork.
Guests Onboard:
NEVER approach a yacht that has guests onboard or maybe expecting guests. Telltale signs include; flowers on the aft deck, a yacht that is set up (covers off, cushions organised etc.), neat dock arrangements, crew in epaulettes/polos.
Dock walking often leads to day work. If it does, make sure that you are well prepared.
Find out about day working on a superyacht
Important
Dock walking in some ports and locations is not allowed. Ports are becoming increasingly strict in this regard, so it is important to do your research and speak to experienced people who know the laws in the area.
It is your responsibility to find out whether you are legally allowed to dock walk in the country/area you are present in. This may be dependant on where your residency lies.