Superyacht CV Guide
As an inexperienced crew member seeking your first job on board a superyacht, it is imperative to have a good CV. Yacht crew CV's are very different to those used in the business world and other industries. It is important to make sure your CV professional and relevant.
We highly recommend you follow the tips below, but don't be afraid to make some adjustments that reflect your personality and style. It is important to strike a balance between unique, yet still professional and uniform to the industry.
Photograph: Your photograph is one of the most, if not the most important thing on your CV. Unlike other industries, no one will even bother to look at your CV without a photograph. The yachting industry is very image conscious and boats like to hire presentable crew.
-     The photograph should be placed in the top corner of the CV.
-      It should in colour, be a JPEG file and less than 500KB.
-      It should be a head and shoulders photo and you should be wearing a white polo shirt or epaulettes.
-      Your hair should be neat and presentable.
-      No hats, caps, sunglasses or large ear rings.
-      Look professional and friendly – SMILE.
-      You should take the photograph with the sea or a marina in the background.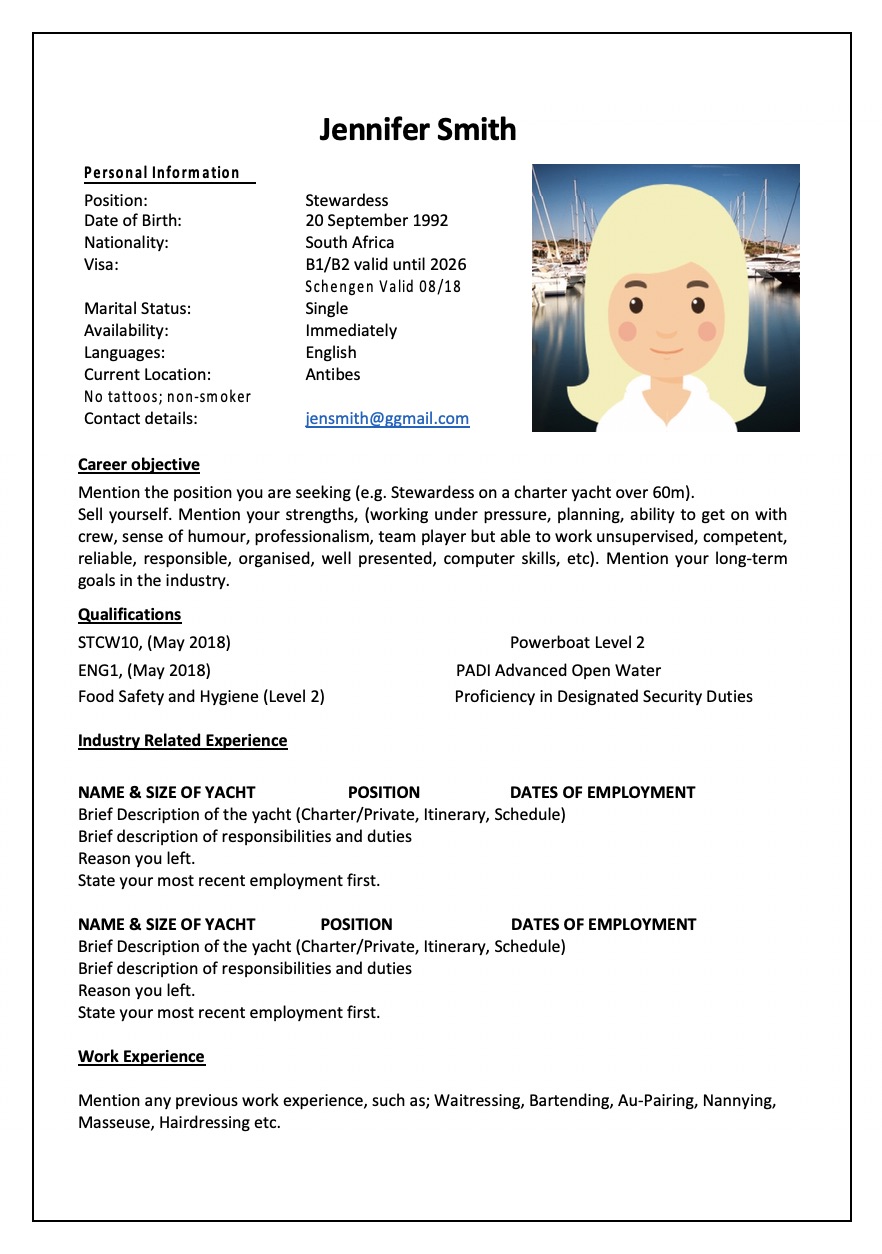 Other Tips:
Keep it concise, the CV should be no longer than two pages. Short and sweet is the trick here – potential employers will be reading through many CVs and don't want to read unnecessary information.
Always spell check your CV!! Allow family and friends proof read it to make sure it is grammatically correct.
Write professionally and do not use slang.
Always print your CV out before sending it off, sometimes the layout and format may appear differently once printed. Most potential employers will print out the CVs they are interested in – make sure you are happy with the printed version.
NEVER LIE on your CV – some crew may be tempted to lie on their CVs in order to appear more experienced. Interviewers and employers are able to tell and you will be caught out.
List all relevant experience and/or transferrable skills from your previous careers and/or upbringing.
When applying for a job online you should attach a cover letter along with your CV.
You will often hand your CV out whilst 'dockwalking', it can be a good idea to staple a business card to your CV and to hand your CV out in a plastic sleeve.
Save your CV under a professional file name, eg. John Smith CV, as it will appear that way for potential employers to download.
Get feedback and help from superyacht crew agents.