I had been lucky enough to travel around the globe during my yachting career, seeing so many epic spots, meeting similar minded people and partying until the sun came up. But with all the travel, fun and late nights out, hard work and grueling hours on boss trips and charters never seemed to get any easier. After almost 8 years in the yachting industry and finishing up a busy season that involved a lot of personal challenges, ups & downs and feeling completely burnt out, I felt really lost, unsure and mentally exhausted. I had heard about a retreat in Bali, Indonesia a friend of mine was hosting that involved embarking on an unforgettable journey providing the opportunity for self-reflection, growth and connection and knew I couldn't miss this chance.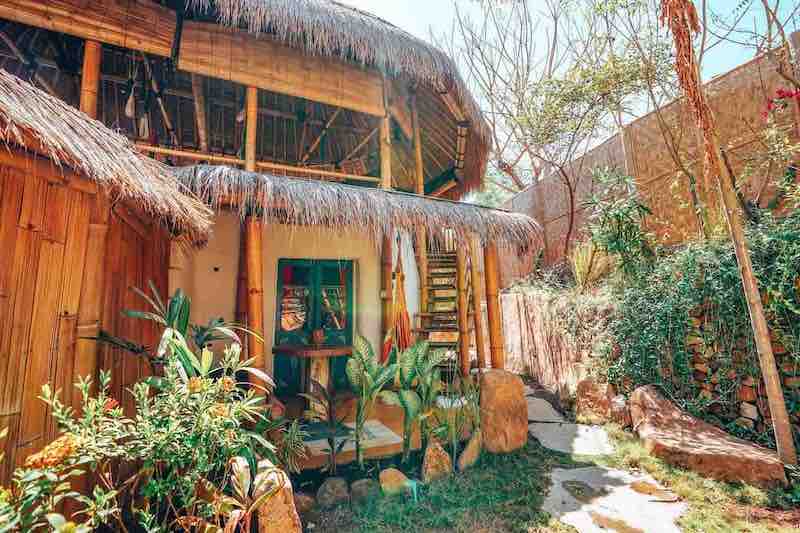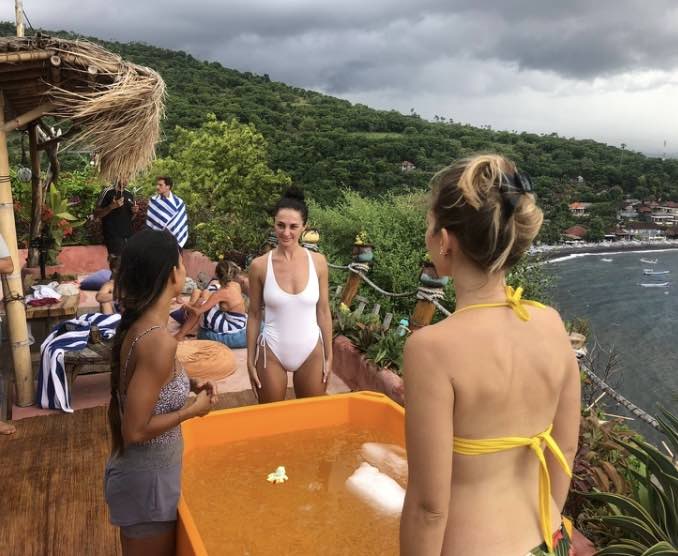 The retreat was held at a beautiful lodge called Blue Earth Village, nestled in a small, quaint fishing village called Amed, on the East coast of Bali. With the enormous Mount Agung (Bali's largest active volcano) serving as the backdrop, the town is lined with coral-filled bays, colorful fishing boats, and cute little bars/restaurants on the water's edge – offering a delicious range of local Indonesian cuisine. Blue Earth Village was a beautiful building made from a mix of shipping containers, bamboo, and recycled objects, with a long-term goal of creating a diverse vegetarian and vegan menu at their restaurant which gave you front-row seats overlooking Mount Agung. The rooms were made with comfort and style with views of either the ocean, Mount Agung, or even a private garden. The food from the restaurant was fresh and the menu was filled with so many wonderful healthy options ranging from a selection of vegan curries to a tasty quinoa and mushroom burger and plenty more! And really loved that every morning we got spoilt with a choice of either a homemade ginger or dragon fruit kombucha drink.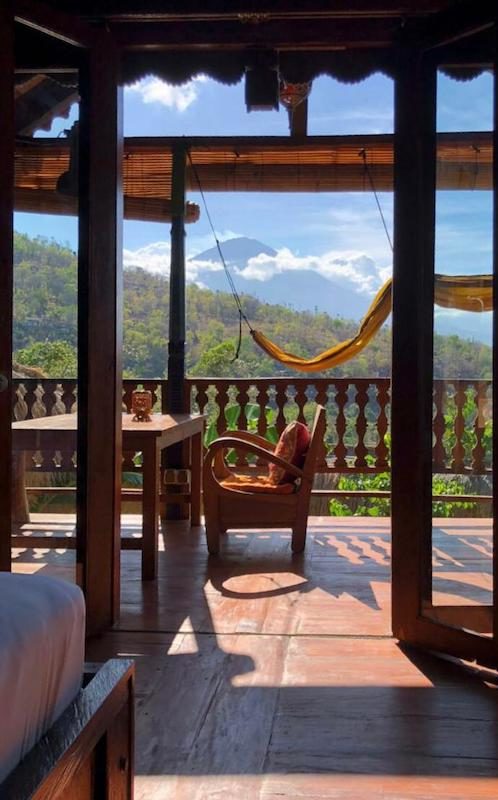 Friday:
14:00 – Arrival & settling in
15:00 – Open circle
19:00 – Dinner
20:00 – Personal time

Saturday
05:30 – Sunrise light yoga
06:30 – Hike with a view
09:00- Breakfast 10:00 – Purpose workshop
11:00 – Breathwork 12:00 – Ice bath
13:00 – Lunch
15:00 – Circling
17:00 – CO2 tolerance
19:00 – Dinner
20:00 – Personal time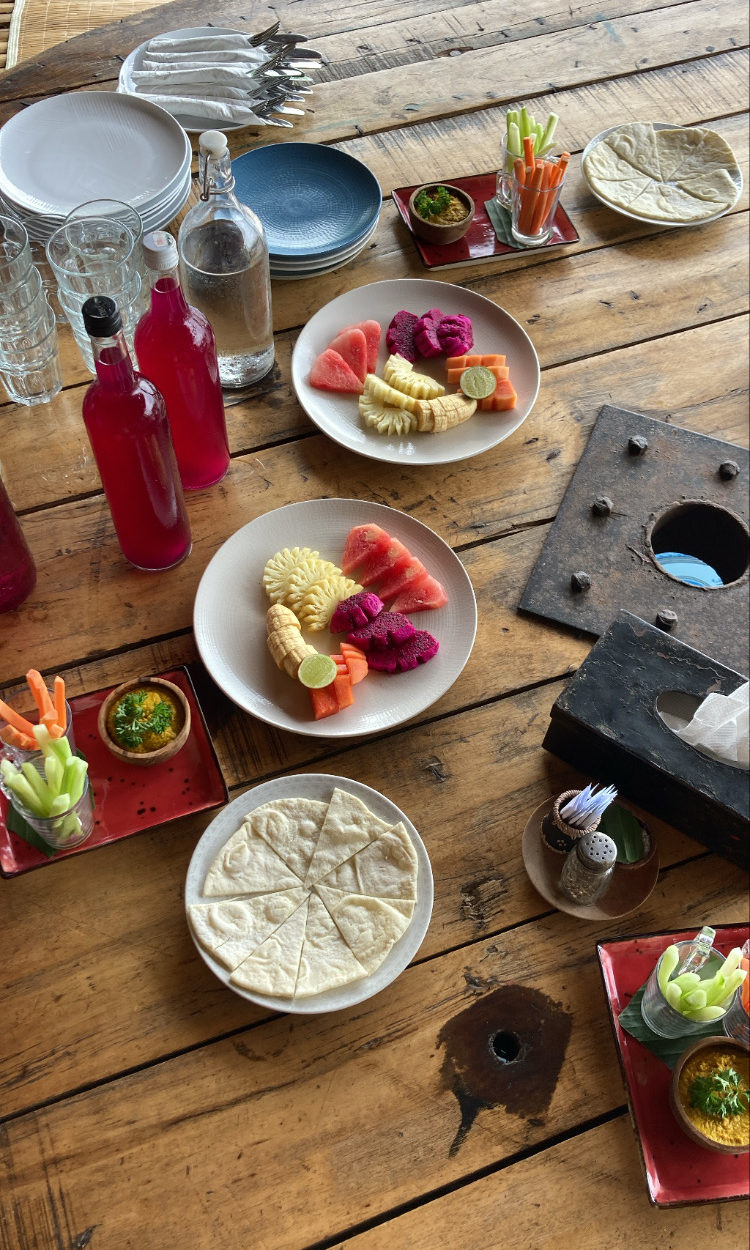 Sunday
08:00 – Sunrise yoga
9:00 – Breakfast
10:30 – Freediving
13:00 – Lunch
18:00 – Socializing
19:00 – Dinner
20:00 – Personal time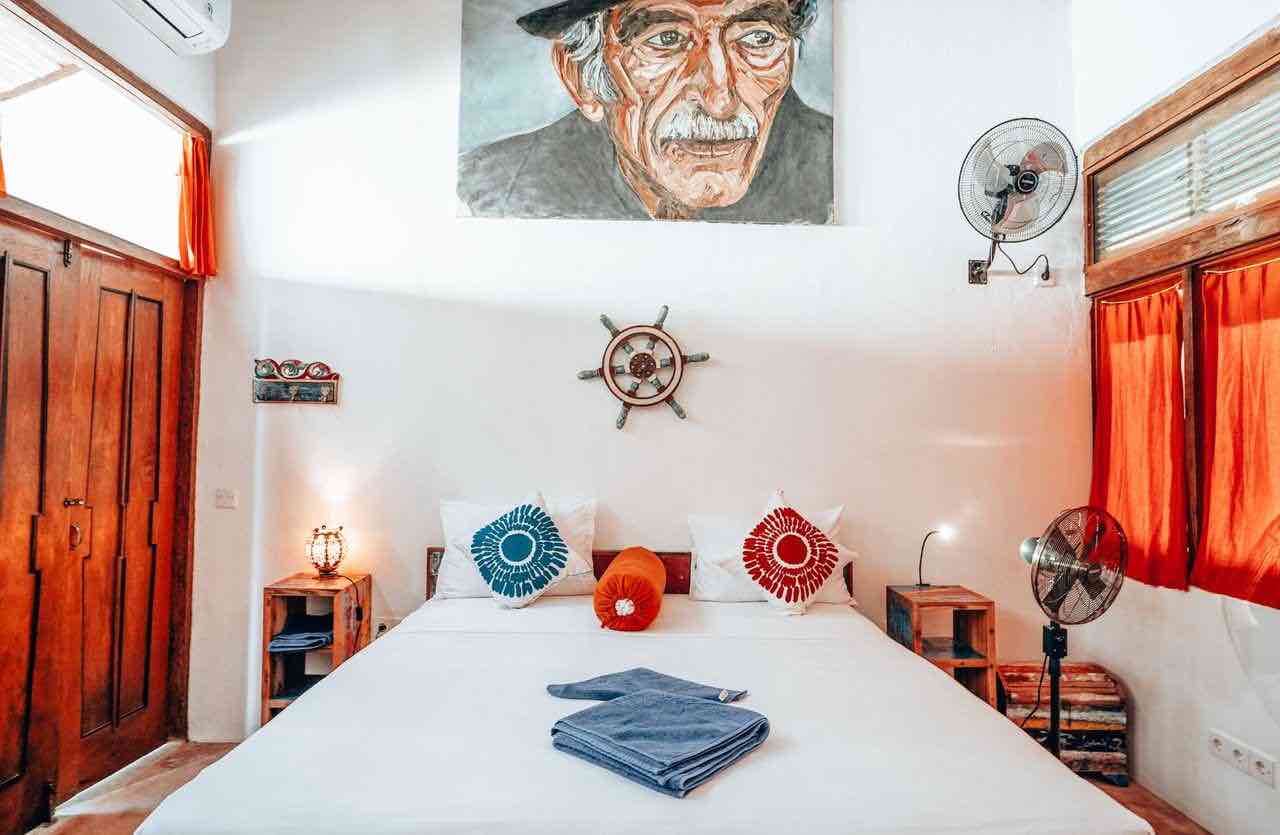 Monday
08:00 – Yoga
09:00 – Breakfast
10:00 – Ice bath
11:30 – Breathwork
12:00 – Closing circle
The first day was a really relaxed one, meeting the team and facilitators (who would soon become lifetime friends) settling in, unpacking and not to mention taking in the most surreal views Amed had to offer. Dinner was delicious, I opted for the Thai green curry and treated myself to a slice of their famous vegan passionfruit cheesecake, possibly the best I've ever tasted. Day one done and dusted and off to bed for a good night's rest.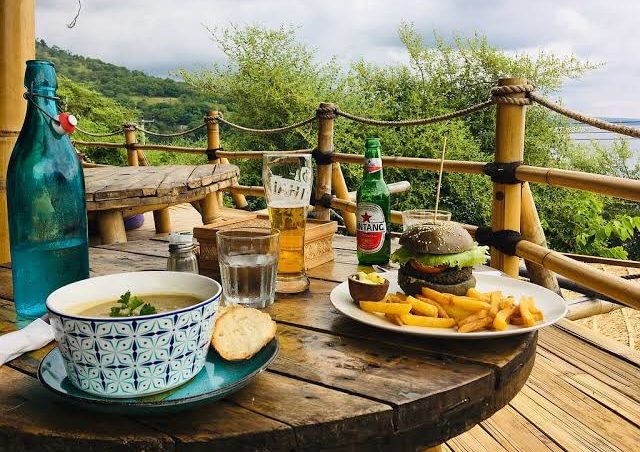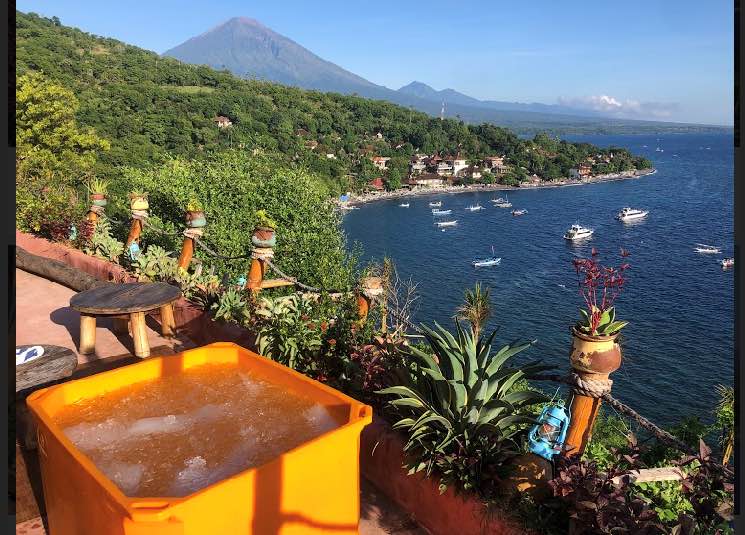 Day two was an early one, we started off with a light Vinyasa session followed by a magical hike up a small mountain to get the best morning view of Mount Agung. It was such a spectacular morning and I felt really humbled to be surrounded by such beauty. Around midday, it was time to conquer the ice bath, which I had mentally put off that morning. I have never really been a fan of cold water but there was no way I was fooling myself out of it. And Oh boy, was it an experience! I managed to fully submerge myself for 2 mins (head out of the water) with the instructor's help, using breathwork techniques we were shown an hour before as a form to regulate the mindset and physiological state. Knowing all the benefits ice exposure had to offer, I was more than happy to jump right back in!
Lunch was another success, with Blue Earth delivering the best veggie pizza and a list of healthy smoothies to choose from. The rest of the afternoon involved circling which was a way for everyone to connect about their day, how we were feeling, and what obstacles we may have experienced
Theory of freediving in the classroom was next on the agenda, which was held by Apneista Freediving and Yoga School. The day had been a long one and I was ready for dinner and bed. We were lucky enough to get a surprise massage the facilitators had organized for us and was a real treat to end a productive but busy day!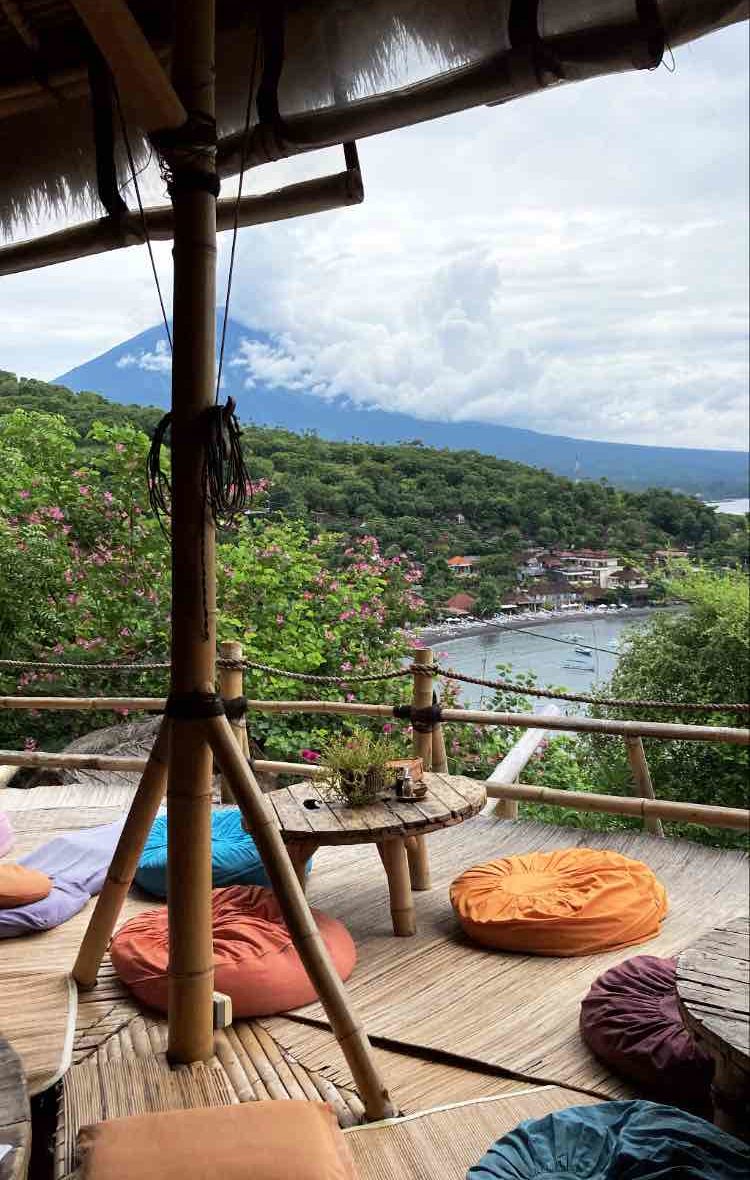 Day 3:
I had always had a fear of deep, dark water even though I had loved to surf and basically worked at sea most of my 20's, but the thought of freediving kinda scared me and to be honest I felt pretty lukewarm about the idea of holding my breath and diving into the unknown. But a quick snorkel out to the buoys where we would be practicing, a few attempts and… success! We had all managed to conquer 6 meters with the help of our Instructor Andres. He was wonderful and never left our side even throwing a game or two of rock-paper-scissors while we were submerged below! After completing our dives, I had a really proud moment, realizing I was overcoming obstacles, trying new things and completely putting myself out there! The team had organized a very special evening for us for our last night. A BBQ on the beach with a variety of local cooked dishes and even dessert! It was a stunning evening with the sunset as our backdrop and a bunch of blessed, full bellied 'purpose explorers'.
The last day had come so quickly and couldn't believe the retreat was almost over! The sun was shining, everyone was in high spirits and our hearts filled with so much appreciation, clarity and self-growth. A morning of yoga, another ice- bath and a delicious healthy salad for lunch, it had all come to an end. The facilitators had put such an outstanding effort into such a beautifully thought-out retreat. After saying our goodbyes, I jumped into the taxi and as we drove away, I looked back and had a small pinch me moment, taking in all the beauty of Amed and finally feeling like I did have a true purpose!
Enjoy some of the best snorkeling in Bali
Just off the coast of Amed are some of the most impressive dive and snorkel sites. The amount of marine life hidden in the coral reefs are unimaginable and outstanding. From massive starfish to bio-luminescent plankton, you will get to see it all. The waters of Amed are an underwater playground and host a vibrant marine life. Jemeluk Bay is the most popular spot in Amed and is ideal for a calm snorkeling experience.
2. Visit Bukit CInta
Mount Agung Viewpoint. On a clear morning, you will have the most incredible view of Mount Agung. It is the highest and holiest peak of the island that stands at 3,031 meters above sea-level. The first rays of light are the most magical and once you arrive at the viewpoint you will see a vast stretch of rice fields and get the best view of the active volcano.
3. Go beach hopping
Grab a sarong, a book and some sunscreen and enjoy a choice of three different beaches:
Amed beach – Black sand beach at the very start of town Jemeluk beach – A rocky beach in the middle of the three beaches
Lipah Beach – White sand beach
Each beach is lined with local warungs (family-owned restaurant) and beach chairs which you can hire for 50 000 IDR during peak season. If you get bored pick up your stuff, hop on a scooter and head to the next!