Cala Varques is situated on the East coast of Mallorca about 10km south of Porto Cristo, it is a small to medium sized unspoilt beach about one hour's drive from Palma. The beach is not sign posted which keeps it reasonably unpopulated, although it is becoming more of an attraction with every summer that passes. Follow the signs to Cala Falco and park your car next to a fence on a dirt road, you will have about a 20-minute walk to the beach from there (closed shoes recommended).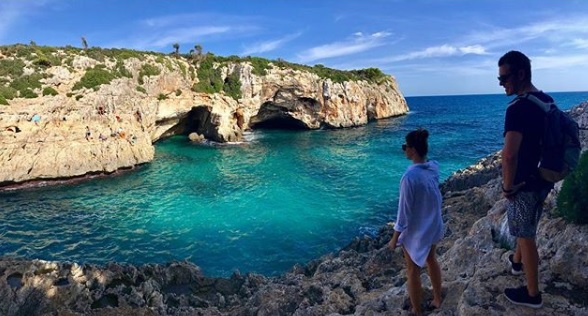 Cala Varques boasts white sand beaches and crystal clear turquoise waters, the swell can get up on a windy day or after a strong Easterly. It is therefore better to save this visit for a calm day. The cove is surrounded by beautiful natural cliffs and rock formations and there are a variety of activities on offer: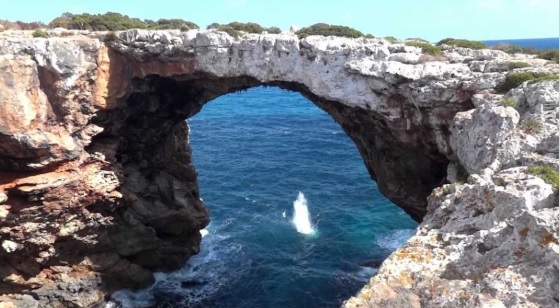 Slack Lining: There is a slack line set up and beachgoers can test their balance walking the tightrope or enjoy watching some of the locals perform tricks.
Snorkelling: There is great snorkelling around the rocky cliffs/formations and swimmers can even enjoy snorkelling into the various caves.
Rock Jump: One of the main attractions at Cala Varques is the famous rock/cliff jump, situated on top of a natural arch formation this jump is not for the faint-hearted. It is over 20m high and should only be attempted by those who know what they are doing. A series of recent injuries has resulted in a lifeguard being positioned here and there a few cases of people having to be evacuated by helicopter.
Rock Climbing: Cala Varques is also renowned for it's rock climbing and more specifically 'Deep Water Soloing' which involves rock climbing with no ropes or equipment, any mistakes will result in a climber falling directly into the ocean.
The beach is known to attract 'hippies' and nudists so be prepared for some interesting viewing, on the odd occasion you may see naked beachgoers who have bought their goats, cows or donkeys along.
During the busier months there is usually a local entrepreneur with a modest set up selling cocktails, snacks and baguettes, but we recommend coming prepared.