Do you have some days off in the South of France and you just can't get enough of the water? Why not take a little drive and go cast some lines in Castellane? There's not many places more stunning to fish than the Verdon river, nestled deep down in the largest canyon of Europe, with cliffs rising up to 700 meters right next to you.
With Castellane being just under a 2 hour drive from Nice, it makes for the perfect day trip, but if you happen to have the whole weekend off, I'd highly recommend staying overnight so you can explore the gorgeous – the Gorge du Verdon is just around the corner – surroundings after a bit of fishing fun.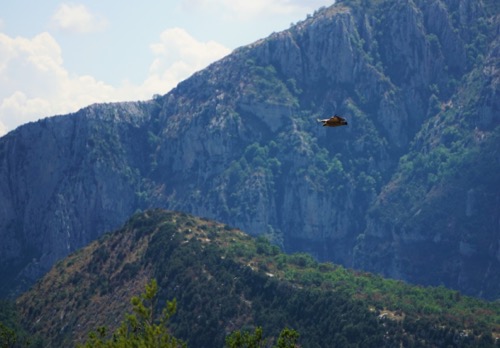 After only half a day, we gained significantly better results in hooking and landing fish and ended our morning with 6 native brown trout on the teller. Fun fact: as brown trout are territorial fish and they have to be released after being caught, our guide would actually recognise each particular trout we pulled out of the river, almost greeting it as an old friend and giving us a little background story about their age and when it was last seen.
On top of all the technical knowledge you will leave with, it's also the perfect way to connect with nature and forget about all those long charter days ahead and who knows, maybe you'll even see a wolf or a chamois in the wild! Or only slightly more likely, a kettle of vultures circling high above in the sky.
At €145 per person for 5 hours of fishing, it's not the cheapest activity, but even after such a short time, you won't be able to look the same at a river ever again, now always wondering what hides underneath the surface below. And what better way is there to fully appreciate the region of the Gorge du Verdon than to actually wade knee deep through the river and just take in all the beauty around?
So crew, if you ever make it to Castellane, be sure to let us know how many fish you caught!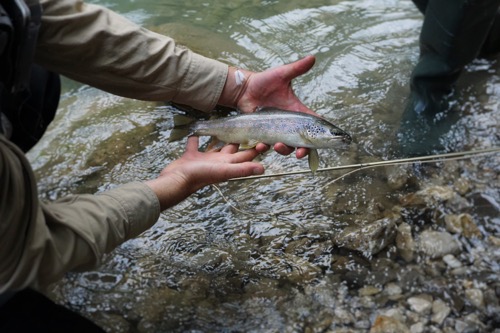 Now, don't worry if you don't know the first thing about fly fishing; your guide, Guillaume Durand from Riviera Fly fishing, will teach you everything there is to know and more. He grew up in Antibes but moved to Castellane when he was 14 and has been fishing the rivers in the area ever since. This has equipped him with a vast knowledge of the region and a phenomenal insight into all the environmental factors that can influence the success of a fishing trip.  For example, when the local authorities came to warn us that they had to release some pressure off a nearby dam, which would cause our first fishing location of the day to flood and become muggy, he was well prepared with a plan B and instantly brought us to an alternative spot of which he knew would be unaffected by the dam.